Camera nhỏ gọn chất lượng
Dòng sản phẩm camera với giá thành phải chăng mang tới chất lượng chuyên nghiệp, phù hợp với ứng dụng giám sát vừa và nhỏ. Các Camera dòng Q rất đa dạng phù hợp với mọi khu vực cần giám sát, giúp tiết kiệm chi phí lắp đặt và thời gian. Đặc biệt sản phẩm Camera Ip hồng ngoại ốp trần Wisenet Hanwha QNV-6012R với IP66, IK10 có thể lắp ngoài trời và chống va chạm nhẹ.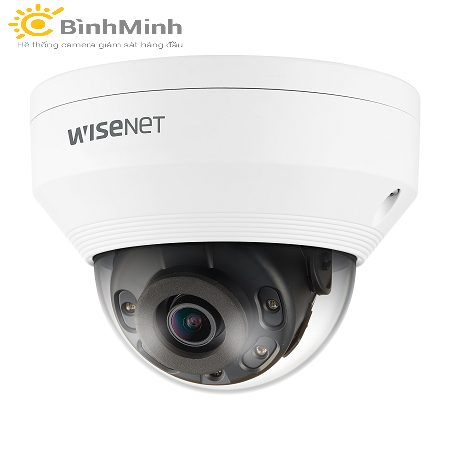 Thông số chi tiết:
Video
Imaging Device
1/2.8" 2MP CMOS
Effective Pixels
1920(H)x1080(V)
Min. Illumination
Color: 0.03Lux(F2.0, 1/30sec)
BW: 0Lux(IR LED on)
Video Out
CVBS: 1.0 Vp-p / 75Ω composite, 720x480(N), 720x576(P) for installation
Lens
Focal Length (Zoom Ratio)
2.8mm fixed focal
Max. Aperture Ratio
F2.0
Angular Field of View
H: 113.7° / V: 61.5° / D: 134.5°
Focus Control
Fixed
Pan / Tilt / Rotate
Pan / Tilt / Rotate Range
0˚~350˚ / 0˚~67˚ / 0˚~355˚
Operational
IR Viewable Length
20m(65.62ft)
Camera Title
Displayed up to 85 characters
Day & Night
Auto(ICR)
Backlight Compensation
BLC, WDR, SSDR
Wide Dynamic Range
120dB
Digital Noise Reduction
SSNR
Motion Detection
4ea, polygonal zones
Privacy Masking
6ea, rectangular zones
Gain Control
Low / Middle / High
White Balance
ATW / AWC / Manual / Indoor / Outdoor
LDC
Support
Electronic Shutter Speed
Minimum / Maximum / Anti flicker (1/5~1/12,000sec)
Video Rotation
Flip, Mirror, Hallway view(90˚/270˚)
Analytics
Defocus detection, Directional detection, Motion detection, Enter/Exit, Tampering, Virtual line
Alarm I/O
Input 1ea / Output 1ea
Alarm Triggers
Analytics, Network disconnect, Alarm input
Alarm Events
File upload via FTP and e-mail
Notification via e-mail
SD/SDHC/SDXC or NAS recording at event triggers
Alarm output
Audio In
Selectable(mic in/line in)
Supply voltage: 2.5VDC(4mA), Input impedance: 2K Ohm
Network
Ethernet
RJ-45(10/100BASE-T)
Video Compression
H.265/H.264: Main/High, MJPEG
Resolution
1920x1080, 1280x960, 1280x720, 800x600, 800x448, 720x576, 720x480, 640x480, 640x360
Max. Framerate
H.265/H.264: Max. 30fps/25fps(60Hz/50Hz)
MJPEG: Max. 15fps/12fps(60Hz/50Hz)
Smart Codec
WiseStreamⅡ
Bitrate Control
H.264/H.265: CBR or VBR
MJPEG: VBR
Streaming
Unicast(6 users) / Multicast
Multiple streaming(Up to 3 profiles)
Audio Compression
G.711 u-law /G.726 Selectable
G.726(ADPCM) 8KHz, G.711 8KHz
G.726: 16Kbps, 24Kbps, 32Kbps, 40Kbps
Protocol
IPv4, IPv6, TCP/IP, UDP/IP, RTP(UDP), RTP(TCP), RTCP, RTSP, NTP, HTTP, HTTPS, SSL/TLS, DHCP, FTP, SMTP, ICMP, IGMP, SNMPv1/v2c/v3(MIB-2), ARP, DNS, DDNS, QoS, UPnP, Bonjour, LLDP
Security
HTTPS(SSL) Login Authentication
Digest Login Authentication
IP Address Filtering
User access log
802.1X Authentication(EAP-TLS, EAP-LEAP)
Edge Storage
Micro SD/SDHC/SDXC 1slot 128GB
Application Programming Interface
ONVIF Profile S/G/T
SUNAPI(HTTP API)
Wisenet open platform
Web Viewer
Supported OS: Windows 7, 8.1, 10, Mac OS X 10.12, 10.13, 10.14
Recommended Browser: Google Chrome
Supported Browser: MS Explore11, MS Edge, Mozilla Firefox(Window 64bit only), Apple Safari(Mac OS X only)
Memory
512MB RAM, 256MB Flash
Environmental
Operating Temperature / Humidity
-30°C ~ +55°C(-22°F ~ +131°F) / Less than 90% RH
* Start up should be done at above -20°C
Storage Temperature / Humidity
-30°C ~ +60°C(-22°F ~ +140°F) / Less than 90% RH
Certification
IP66, IK10
Electrical
Input Voltage
PoE(IEEE802.3af, Class3), 12VDC
Power Consumption
PoE: Max 7.40W, typical 6.00W
12VDC: Max 6.40W, typical 5.10W
Mechanical
Color / Material
White / Aluminum
RAL Code
RAL9003
Product dimensions / weight
Ø120.3x91.7mm(Ø4.74x3.61"), 510g(1.12 Ib)
DORI
Detect (25PPM/ 8PPF)
25.1m(82.21ft)
Observe (63PPM/ 19PPF)
10.0m(32.89ft)
Recognize (125PPM/ 38PPF)
5.0m(16.44ft)
Identify (250PPM/ 76PPF)
2.5m(8.22ft)
Xem tiếp các sản phẩm tương tự:  QNV-6072R, QNV-6022R, QNV-6032R,...